Digital Broadcast Console
Oxygen 1000 is a fully Digital Broadcast Console designed for On Air and Production in any Radio Station: a compact 6 faders unit, 3 microphone inputs with Automix, with a powerful internal audio routing and a wide range of controls and I/O in a rugged and classy steel chassis.
Oxygen 1000 DSP based audio processing delivers high-end quality and guarantees latest features and flexibility.

Reliable and easy to use as an analogue mixing console Oxygen 1000 offers top class features: Low Latency, Users Preset, Smart Keys, EQ, Compressors, Telephone Hybrid, HDMI Output, Analogue and Digital I/O, USB, Bluetooth, Dante™ AoIP, Telco, Presenter Talk Box.
Oxygen 1000 can be remotely controlled through a dedicated application.
Input & Output
3 microphone inputs with Automix
4 stereo analogue inputs
4 stereo analogue outputs
1 built-in telephone hybrid
1+4 telco interface with GPIO
Bluetooth audio interface
1 digital Out (AES/EBU)
2 USB audio interfaces (disabled with Dante™ option installed)
8 stereo inputs + 8 stereo outputs via Dante™ (optional)
---
General
Fully Digital Broadcast Console for Radio Broadcasting with 6 faders
A/B Fast source switch buttons for each fader
4+1 busses (PGM, SUB, Aux1, Aux2, PFL)
Near 0 latency (< 0,7 ms I/O)
Complete Remote Control by means of an application replicating the surface
Remote configuration and maintenance via Web Interface
User-definable Presets & Snapshot
5 bands fully parametric Equalizer on every input
Dynamic Processor with expander and compressor section on each microphone inputs
Advanced and configurable Monitor Facilities for Control Room and Studio
Customizable RGB colored buttons
High Resolution (120 leds) meter bars for outputs
HDMI Out for console status display
2 Timers (Ctrl-Room and Studio microphones timers on HDMI Monitor)
TalkBox for guest and presenter (optional)
---
Versions
Oxygen 1000 – Bluetooth
Oxygen 1000 – Dante™ – Bluetooth
---
Options
Talk Box
Dante™ I/O Board
RJ45 adapters for:
o Mic with GPIO
o Line In
o Line Out with GPIO
o Telco with GPIO
The complete Oxygen Line Up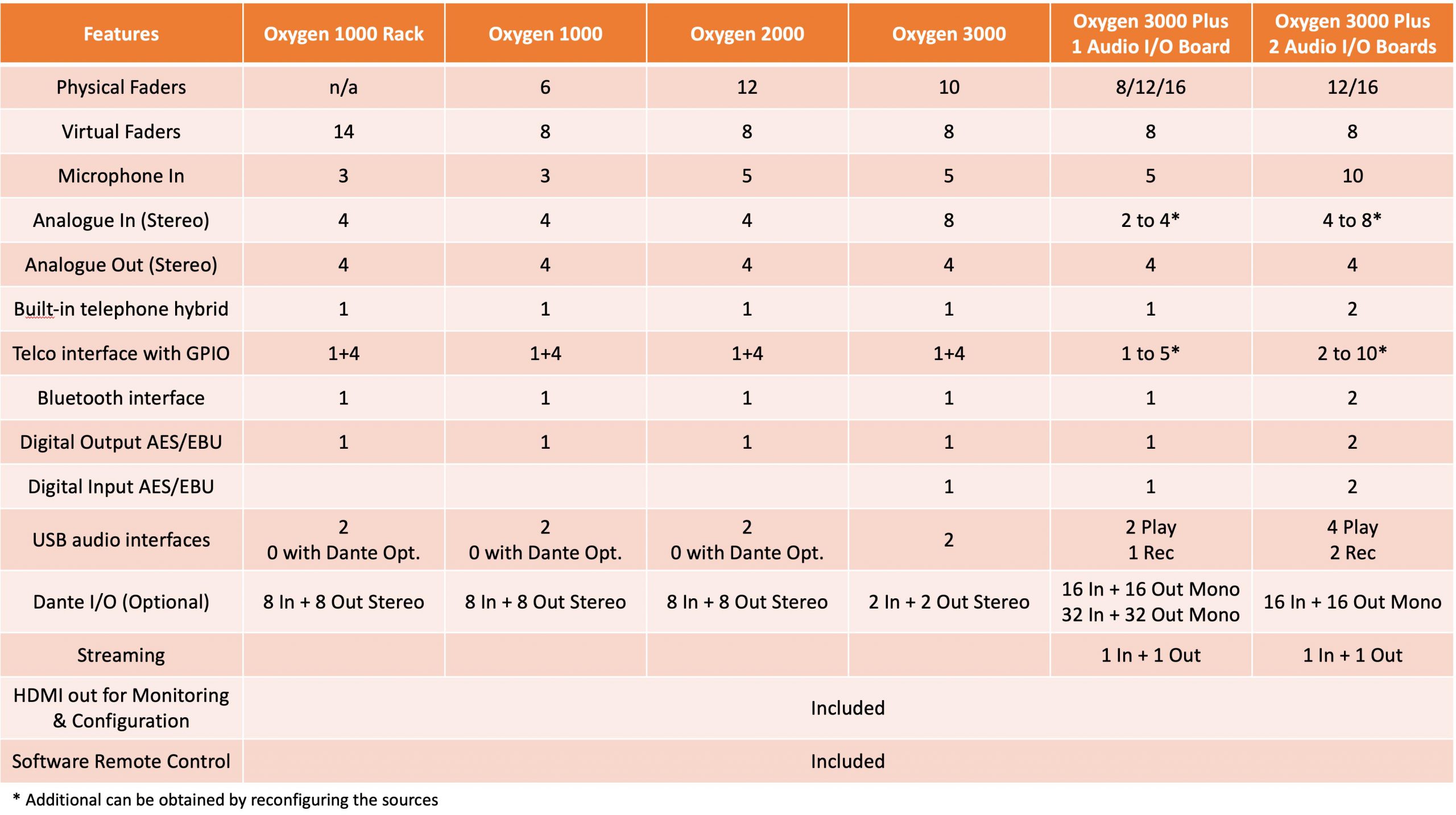 Microphone Inputs
3 Microphone Inputs with Automix
Mic 1 on XLR, Mic 2 & 3 on RJ45, all balanced with + 48V Phantom and GPIO
Independent ON AIR Lights and Cut Off control, when opening Control Room and Studio microphones
PFL button switches to private conversation on Hybrid/Telco/Bluetooth mode
Enable TalkBack feature on any Studio or Control Room microphone
Parametric Compressors/Expander for MICROPHONE and MONO inputs
Save and recall microphone presets including Compressor/Expander settings
Phase inversion on microphone inputs
Ducking / AutoFader assignable to all sources (automatic attenuation of music on speech)
---
Automix
Automix feature simplifies mixing activities in the presence of many guests in the studio.
The function adds, to the existing sources, a new source called Automix, which is the sum of all enabled microphones.
The Automix source has all the features of a microphone source such as:
Studio/Control Room loudspeakers control
Studio/Control Room light control
Can be used as audio in Private mode for phone calls
Using this new source, the user can manage in a very simple manner all the microphones of the studio with a series of benefits:
Just 1 fader for the management of studio microphones;
A dedicated AGC section for each microphone input automatically adjusts the correct level;
Automatic management of attenuation on microphones not in use, simulating a slight closure of the fader;
Final compressor that allows an automatic leveling of the Automix source;
Possibility to use the microphones individually.
This feature further simplifies the work of the mixer engineer, even in the case he/she is also the host of the show.
Available settings in the Automix menu:
MIC-1    ON/OFF
MIC-2    ON/OFF
MIC-3    ON/OFF
Idle Mic Attenuation
Attenuation Attack Speed
Attenuation Release Speed
Compression Threshold
Compression Ratio
Compression Attack Speed
Compression Release Speed
Autogain Speed
Autogain Max Gain
Autogain Max Attenuation
---
Analogue inputs
Line Stereo Inputs: 4
Balanced on XLR for Line 1, Balanced on RJ45 for Line 2-4
Channel mode selection: STEREO, MONO, L, R, INV-L, INV-R, INV
Stereo-1 & DANTE-1 inputs can be configured as 4 Telco Inputs
---
USB audio I/O
2 Built-in stereo USB (Type-B) I/O Audio Interfaces allow to directly connect the PC to the Oxygen 1000 console, with no need for audio cards
In facts the PC detects each of the console USB as a digital audio card with 1 stereo inputs and 1 stereo outputs for simultaneous playout and recording
---
Telephone hybrid and Telco
Telephone Hybrid: 1 POTS/PSTN telephone line with Line.In and Tel.Set connection
Telco: 1 in/out N-1 to connect external telephone hybrid with control via TLC/GPIO
4 mono additional Telco can be obtained configuring Analog Inputs (Stereo-1 & DANTE-1) and (OUT-2 & DANTE-1) stereo outputs.
GPI and GPO management on all 5 Telco channels
RING and HOOK on F1 key for each TELCO channels
N-1 on Telco outputs for all BUS (PGM, SUB, AUX-1, and AUX-2)
---
Analogue outputs
4 Balanced Outputs:

OUT-1 – XLR – Fixed as PGM
OUT-2 – XLR – by default assigned as SUB
OUT-3 – RJ45 – by default assigned as AUX-1
OUT-4 – RJ45 – by default assigned as AUX-2

OUT-2 stereo output can be configured as N-1 to achieve up to 2 mono additional Telco
OUT-1 & OUT-2 outputs are both equipped with a GPO
---
Digital output
---
Headphones and local monitor outputs
OUT-2-4 outputs: can be configured as Studio Presenter and Studio Guest Headphones
Unbalanced outputs: 2 Line out on Jack 6.3 for Control Room Headphones
Adjustable maximum Control Room and Studio speakers volume
Adjustable maximum Control Room and Studio headphones volume
Adjustable CUT or Attenuation mode (-40, -30, -20, -10 dB) on Control Room and Studio speakers
Independent source selection (PGM, SUB, AUX1, AUX2, EXT) for control room and studio speakers, control room and studio headphones with or without PFL (Studio Speakers only via Software Remoter)
Independent Talk Back management on Control Room and Studio speakers (only via Software Remoter)
Independent Talk Back management on Control Room, Studio headphones (only via Software Remoter)
Same source selection for Control Room and Studio headphones, with independent level (Studio Speakers only via Software Remoter)
---
GPI/GPO
GPI: 9 in total, for Talk back, Telephone Hybrid or other features
GPO: 9 total, to control OnAir lamps or provide HOOK and RING commands for external telephone Hybrid
User custom GPIs (e.g. Ring, Talkback, channel ON/OFF, etc.)
User custom GPOs (e.g. Hook/ONAIR, Studio-Light, Control Room-Light)
---
Surface & Management
Direct Firmware update via Internet
WEB UI for Console configuration and service features (Save, restore, update, logs, etc.)
Save and recall EQ presets (up to 10)
New real-time EQ algorithm with graphic
Fast and accurate Led Meters display
Save and recall control panel configuration with 10 Snapshots
Save and recall total console configuration. The configuration can be saved to internal memory (microSD), USB and PC (via WEB interface)
Gain adjustment knobs with adaptive speed
Dimmable buttons light
Adjustable fader ON/OFF threshold (from -50 dB to 0 dB)
---
Telephone Hybrid and Telco
The built-in telephone hybrid allows direct connection of a telephone line POTS/PSTN on RJ-11C. The audio is processed via DSP that delivers a state-of-the-art audio processing. It's also available a Telco N-1 in/out, to connect Oxygen 1000 to an external telephone hybrid. The Telco N-1 is always available on RJ45. TLC commands are available on the same RJ45 with Hook and Ring interface.
TLC commands for Telco-2-5 are available and configurable on GPIO-DB9 connector with Hook and Ring.
---
HDMI output
The HDMI output allows to connect an HD display monitor to the console, suitable to be used in two flavours:
Monitor, that displays the following information:

Audio input source levels
4+1 BUS output levels
A/B source names assigned of 10 channels
Display On-Air sources
Microphone On timer (control room & studio)
Large Clock
Audio output level (Loudspeakers & Headphones)
On-Air microphone
Telephone active

Configure, for configuring all of the device features.

HDMI output combined with 4 rotary knobs allow the fast and intuitive programming of all the mixer parameters.
The programming GUI has been designed in order to be very easy and intuitive.
Selectable home page layouts are available, with many theme icons.
HDMI output can be personalized with the customer logo. Selectable display layouts are available.
Bluetooth
Oxygen 1000 can be equipped with a Bluetooth module. This allows airing the calls made via GSM, Skype, Viber and WhatsApp with a Smartphone, a Tablet or a PC. Oxygen 1000 has two Bluetooth connection modes: bidirectional to support phone calls; monodirectional to put on air high quality stereo audio (A2DP) streamed by Bluetooth sources.
With Bluetooth calls, PFL enables PRIVATE conversation mode.
Bluetooth interface is installed at the factory and must be requested at ordering stage.
---
Talk Box
It is a device dedicated to the presenter and guests. Talk Box is very simple to connect to the On Air Console: its take 2 RJ45 cables of the length that is needed to connect it to the mixer. It is possible to connect up to 2 Talk Boxes to the Oxygen 1000. The Talk Box offers a direct connection of the microphone and relative On-Air light, it is also possible to directly connect the studio's On-Air Light. The Talk Box has a headphone amplifier with two 6.3mm outputs. Through the two large backlit buttons it is possible to activate and deactivate your own microphone (On / Off / Cough) or enable Talk back to the console.
---
Dante™ AoIP Interface
Oxygen 1000 can be equipped with a Dante™ interface (also supporting AES67 and SMPTE ST 2110-30 transport protocols) which provides 8 Stereo Inputs and 8 Stereo Outputs on a dedicated Ethernet port, with independent Level Control and Sample Rate Conversion.
On Oxygen 1000 Dante™ versions the USB I/O ports are disabled.
Dante™ AoIP interface is installed at the factory and must be requested at ordering stage.
---
Cable Adapters
RJ45 adapters are available for:
o Mic with GPIO
o Line In
o Line Out with GPIO
o Telco with GPIO
| Analog Balanced Microphone Inputs | |
| --- | --- |
| Connector | RJ45 & XLR Balanced – EMI Suppressed |
| Input Impedance | 2,4 KΩ |
| Nominal Input Level (sensitivity) | -9/-66 dBu |
| Max Input Level (clipping point) | +9 dBu |
| A/D conversion | 24 bit / 48 Khz |
| Signal To Noise Ratio (referred to peak level) | >90 dB |
| THD+N | <0,01% |
| Analog Gain | Adjustable +0 ÷ +57 dB (3dB step) |
| Phantom Power | +48V |
| Analog Balanced Stereo Inputs | |
| --- | --- |
| Connector | XLR & RJ45 Balanced – EMI Suppressed |
| Input Impedance | 10 KΩ |
| Nominal Input Level (sensitivity) | 0 dBu |
| Max Input Level (clipping point) | +18 dBu |
| A/D conversion | 24 bit / 48 Khz |
| Frequency response | +/-0,5 dB from 20 Hz to 20 kHz |
| Signal To Noise Ratio (referred to peak level) | >100 dB |
| Stereo Separation (referred to peak level) | >90 dB |
| THD+N | <0,002 % |
| Analog Balanced Telco Input | |
| --- | --- |
| Connector | RJ45 Balanced – EMI Suppressed |
| Input Impedance | 10 KΩ |
| Nominal Input Level (sensitivity) | 0 dBu |
| Max Input Level (clipping point) | +18 dBu |
| A/D conversion | 24 bit / 48 Khz |
| Signal To Noise Ratio (referred to peak level) | >100 dB |
| THD+N | <0,002% |
| PSTN Interface | |
| --- | --- |
| Connector | RJ11 |
| Transhybrid loss | >20 dB |
| Analog Balanced Stereo Outputs | |
| --- | --- |
| Connector | RJ45 Balanced – EMI Suppressed |
| Output Impedance | 23 Ω, nominal 600 Ω |
| Nominal Output Level | 0 dBu |
| Max Output Level (clipping point) | +18 dBu |
| D/A conversion | 24 bit / 48 Khz |
| Signal To Noise Ratio (referred to peak level) | >100 dB |
| Stereo Separation (referred to peak level) | >90 dB |
| THD+N | <0,002 % |
| USB Audio Digital I/O | |
| --- | --- |
| Connector | USB Type B – EMI Suppressed |
| Playback And Recording Sample Rate | SRC 44.1-48 KHz |
| Resolution | 16 bit |
| Available Stereo Channels | 1 Play & 1 Rec for each USB interface |
| Digital Output | |
| --- | --- |
| Connector | Balanced on 1 XLR – EMI Suppressed |
| Input Impedance | 110 Ω |
| Standard | AES3 |
| Audio Sample Rate | 48 KHz |
| Resolution | 24 bit |
| Dynamic Range (Converter Values) | 124 dB |
| Analog Balanced Telco Output | |
| --- | --- |
| Connector | RJ45 Balanced – EMI Suppressed |
| Output Impedance | 23 Ω, nominal 600 Ω |
| Nominal Output Level | 0 dBu |
| Max Output Level (clipping point) | +18 dBu |
| D/A conversion | 24 bit / 48 Khz |
| Signal To Noise Ratio (referred to peak level) | >100 dB |
| THD+N | <0,002 % |
| System | |
| --- | --- |
| Audio Core | Analog Devices ADAU1452 32bit 294 MHz fixed point DSP |
| Audio CODECs | Cirrus CS42448 24 bit/192 kHz |
| System Core | Allwinner A20 dual core cortex-A7 at 800MHz, 1GB RAM |
| LAN Connection | RJ45 - 100Mbit |
| Nominal Delay (analog input to analog output) | 0,7 ms |
| GPIO Inputs/Outputs | 4 GPI/4 GPO on DB9; 4 GPI/2 GPO on Mic2 & Mic3 RJ45; 2 GPO on Out3 & Out4 RJ45; 1 GPI/1 GPO on Telco RJ45 |
| Communication Port | 2xUSB type-A, 2xUSB type-B , 1xLAN, 1xHDMI |
| Operating Temperature | 0°C ÷ 40°C |
| PSU | |
| --- | --- |
| Power Supply | 90-260 VAC / 47-63 Hz / 30 W |
| Dimensions | |
| --- | --- |
| Dimensions (W; H; D) | 344mm; 80mm; 343mm |
| Weight | < 5Kg |